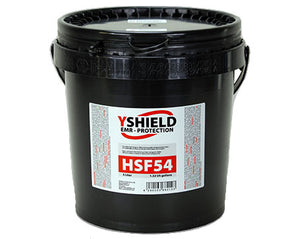 Request a quote using

 

this form

.
Our Yshield HSF 54 shielding paint provides excellent protection from radiofrequency (wireless) radiation from mobile phone and NBN transmitters, smart meters, neighbours' WiFi and other sources of exposure.

The paint blocks up to 99.9999% of radiation and has been tested for effectiveness up to 40 GHz, covering lower and higher 5G frequencies (see test report link below).
It also blocks electric fields generated by wiring.
As shielding is not appropriate in some situations, we recommend you book a phone consultation before buying to make sure that this is the right solution for you.
You can see details instructions about when and how to shield your home in our online course Your Electromagnetic-safe Home.
Description
Contents: a conductive carbon base which, unlike shielding paints containing metal particles, does not corrode or oxidise over time.
Coverage: 

internal use: 1L covers approx 6 square metres
external use: 1L covers approx 4-5 square metres

Features: carbon-based pure acrylic paint, containing no solvent
Grounding: to be grounded with

GS3 grounding plate

and and

GL-20 ground cable

Shelf life : 12 months. Store in a cool, dry place
Quantities: 1L or 5L
Has

TUV certification

for low emissions.
Resources

Tips for applying shielding paint HSF54
Identify the location of the field that you wish to block. Because the shielding materials reflect the RF signal, you will want to make sure that this reflection does not increase the exposure in another room or area. You can identify the source of the field using our Acoustimeter.
Prepare the surface. Remove grease or oil stains and wallpaper that is water-soluble. Sand smooth surfaces that do not have good adhesion. You may need to coat porous or highly absorbent surfaces.
apply paint evenly, making sure each litre covers approx 6m2 (internal) or 4m2 (external). 
ground paint, as per directions
cover with plastic bonded water-based emulsion paints, dispersion silicate paints, facade paints or silicon resin paints.
We recommend Australian-made Haymes paints because they are 99% VOC free and have no lingering odour. They are also suitable for environments subject to moisture and condensation, as can be seen on their product data sheets. 
Customer feedback
'We have had amazing results and are very happy with it, thank you so much.' By A.R.
'I made the changes and painted the walls. It was amazing to see the wifi bars drop after paint was applied. We sleep deeper now.' By M.L.
'You are doing a great job and a wonderful service to the Australian community. Keep up the good work.' By L.C.

'I just want to say thank you for the support and guidance I received from yourself and EMR Australia around shielding my home with YShield HSF54 paint and other shielding products.  I was astounded at how well the shielding paint reduced the RF EMF emissions in my bedroom from 91.5 uW/m2 (peak)  to .8uW/m2.  It is also very easy to apply.  I then used one coat of sealant from Bunnings before repainting it white and the sealant made it very easy to repaint. Thanks again'  By Debbie Aldridge
'The wifi signals and 5ghz wifi band are blocked. I'm highly impressed with the product. There are no more signals in the bedroom.' By M.L.
'Painting the walls with the HSF54 Shielding paint is easy and can be done by oneself or a professional. We mixed the fibres with a 5 litre tub of HSF54 paint and applied 3 coats along a very long hallway (it goes on really well).We monitored wifi signals before and after coats in in some areas after drying added additional coats where signal was strong  (4 in one area)The 5 litre paint surprisingly gave us many coats. We let it dry for 24 hours at a time between coats - after this we then put 2 wired earthing plates above the paint installed by an electrician. Then covered with undercoat and then beige paint above. The Black is not detectable. Wifi signal strength from next door has gone down from 4 full bars to 1! It's amazing to see this actually work. In the rooms there is no detectable signal. Amazing stuff. Sleeping has improved so much, the changes on emotions and sleeping significant. Highly recommended and its good piece of mind to know that you do have the power to reduce EMF and wifi field exposure. Here are the before and after photos.' by Matt
'Recently I had telecommunication facilities erected within a very close distance to my residence. Initially, I sought information from various sources until finally discovering the EMR Australia website hosted by Lyn McLean, whom I contacted for information and possible remedies prior to the devices being 'switched on'. 
In my instance, vast floor to ceiling glass over multiple levels with a direct aspect to the telecommunication towers risked allowing high levels of radiation to be transmitted into my residence.
I was thrilled to learn of Lyn's recommendations to offset and defray the EMR emissions with Solagard Alpha Shield LX 70, being such a simple and easy solution. Its bonus dual functionality of also providing near total UV block and tinting makes this product almost a necessity even before the primary benefit (in my case) for EMR shielding.
Following installation I was able to empirically test the benefit of the LX 70 using my Acoustimeter previously purchased from EMR Australia. I was relieved to determine significant shielding benefits having been achieved with readings on my Acoustimeter from the mid to high 'red zone' to low to medium 'yellow zone' being before and after readings.
In addition to the shielding, Lyn also recommended a special shielding paint to be applied to vulnerable EMR wall space adjacent to windows which I purchased and achieved similar outcomes.' S.Z.