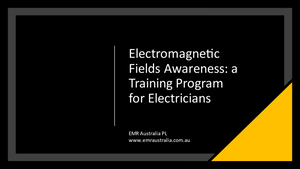 Electromagnetic Fields Awareness:
an Online Training Program plus meters for Electricians 

If you're an electrician, here's an opportunity to expand your knowledge and your business quickly and easily so that you can provide valuable services to your clients.
EMR Australia's Electromagnetic Fields Awareness Training Program for Electricians fills the gap between what electricians have been taught and what they need to know in the modern electrical environment.

It introduces electricians to the three electromagnetic fields (EMFs) that are present in virtually every home and building: electric fields, magnetic fields and radiofrequency (wireless) radiation.
This self-paced course focuses on the electric and magnetic fields that are generated by powerlines, wiring and other electrical sources that electricians work with on a regular basis. It shows you how these fields can be measured and explains strategies for reducing exposure.
It also shows how electricians can help reduce exposure to radiofrequency (wireless) radiation.

With the course, you receive two meters for measuring electric and magnetic fields with free postage. 
Electricians who successfully complete the course can approach us for a free listing on our website and to become an affiliate of EMR Australia (conditions apply).

Designed and presented by Lyn McLean (teacher, trainer, author and Director of EMR Australia), this self-paced course will take you on a guided, step-by-step journey of discovery towards electromagnetic-safe living. Along the way, you'll learn simple techniques and strategies that give proven results. 

Course contents

The course consists of seven modules which cover the following topics:
Introduction and background


Section 1: Magnetic fields

Section 2: How to measure magnetic fields

Section 3: Principles for reducing magnetic fields

Section 4: How to deal with common sources of magnetic fields

Section 5: Electric fields

Section 6: Wireless radiation - how electricians can help reduce exposure

Section 7: Tips for wiring a home to create a safer living environment.
You receive
13 short videos packed with information and tips

a workbook with information, questions and activities designed to reinforce and expand your knowledge and to cater for different styles of learning - it will be a useful resource for future reference
2 meters for measuring electric and magnetic fields: the Tenmars TM-192 meter and PF5 meter with free postage
an application to be listed on this website as an EMF-aware electrician
a template that can be used for ordering meter box shielding.
What are the key benefits?

There are many benefits of undertaking this course.
It will increase your knowledge and understanding about the fields that are generated by the electrical equipment you work with. 
You will learn new skills that you can share with clients.
You can help family and clients reduce the risks that are linked with exposure to EMFs.
You can provide valuable service to clients who are looking for EMR-aware electricians.
Electricians who have successfully completed the course can approach us for a free listing for their business on EMR Australia's website and the opportunity to become an affiliate. [Conditions apply.]
What's involved?
You can proceed at your own pace, watching the videos as many times as you like and practicing the activities as much as you like to become familiar with the way these fields behave.
We recommend you complete the course one section at a time. First, watch the video, then work on the activities in the booklet to consolidate and expand your learning. If you're not sure of any answers, you can go back and watch the video again.
Your workbook will be individually assessed at the end of the course.
How much time will it take?

It's a good idea to allow about 6 hours to complete the course, but how long you take is really up to you.
The course contains 13 videos ( a total of approximately 2 hours ) as well as practical exercises that involve measuring magnetic fields and completing the workbook activities. As this is a self-paced course, you'll be able to watch segments of the video over and over, take as long as you like to complete the activities and practice measuring these fields. We expect you'll want to keep going - exploring exposures not just in your home and neighbourhood, but in your children's schools and your wider environment.


Take this opportunity to benefit from Lyn's 27+ years of knowledge and experience and start your journey towards electromagnetic safety now.
You can see more course details here.
You can see more about your presenter, Lyn McLean here.