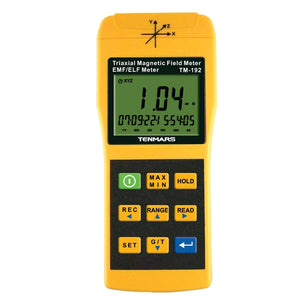 Our Tenmars TM-192 EMF meter is an easy-to-use magnetic field meter (gaussmeter) that measures fields from electrical sources.
It is a lightweight, hand-held meter, suitable for commercial or domestic use.
You can use it to measure magnetic fields from:  
powerlines

wiring

substations

transformers

meter boxes

microwave ovens

computers and other office equipment

electrical appliances

and conductive pipes.
Features
it is a tri-axis meter ie it measures magnetic fields from three different directions at once

it measures fields in a frequency range from 30 to 2000 Hz. This means that it detects a wide variety of frequencies and harmonics.

measures in units of milliGauss (mG) and microTesla (µT)

has a time and calendar function

comes handy vinyl carrycase.
Support material
The FW Bell 4180 magnetic field meter comes with a booklet unique to EMR Australia that provides information about measuring magnetic fields. It contains:
easy-to-understand directions about how, when and where to measure for optimum results

charts for easy recording of your fields

handy safety tips

information about 'safe' levels of exposure

instructions for reducing exposure from common sources.