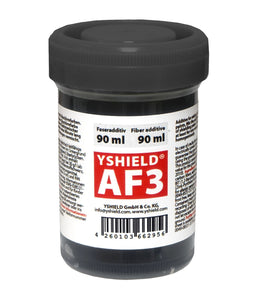 A fibre additive for shielding paint to assist with grounding.

Description
AF3 fibre additive can be added to 5L containers of HSF 54 shielding paint to provide effective grounding.
It contains long, electrically conductive carbon fibers that ensure the paint is properly grounded.
For 5L paint tubs, it can be used instead of the EB2 grounding tape.
Directions
Add the AF3(90 ml) to 5 litre shielding paint. Use an electric mixer for at least for one minute, to ensure thorough mixing.
Technical data
Can be used with 5L quantities of HSF54 and NSF34.
Quantity: 90 ml
Coverage: Mix with 5 litres of shielding paint
Ingredients: Water, carbon black, carbon fibers, additives, preservative (MIT, BIT)
Color: Black
Size: (round) 5 cm (w) x 8cm (hi) x 5 cm (deep)