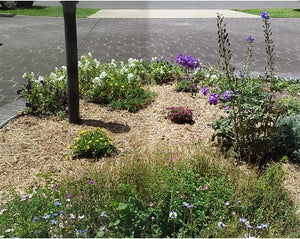 (Price shown is per metre.)
Our Alpha window-shielding film provides excellent protection against radiofrequency (wireless) radiation from mobile phone base stations, NBN transmitters as well as neighbour's WiFi signals. It is the film most of our customers choose. 
Description

Our premium window shielding film, the Alpha Shield, provides excellent shielding across a wide range of frequencies. It does not substantially affect the appearance of the glass and can be installed on most types of glass.
Unlike our other shielding window films, Alpha shield can be used on car windows (see below). 
Its shielding effectiveness is shown in the following table in dB. Each 6 dB represents a 50 percent reduction of signal. Therefore, the higher the dB, the greater the attenuation (reduction) of the signal. Attenuation of 25dB or more is desirable for effective shielding.
Available for customers within Australia only
Please email us with:
your name and address
the dimensions of each pane of glass and add 50mm in width and length.
Attenuation  

The higher the number in the chart, the greater the degree of protection.

The Alpha film provides around 30dB of attenuation at 3.6GHz. Because every 6dB of attenuation is reduces signal strength by 50%, this means that at that frequency the strength of the signal is reduced to about 3.1% of the original level.
| | |
| --- | --- |
|  Frequency | Alpha Shield |
| 30MHz | 48 |
| 40MHz | 25 |
| 60MHz | 46 |
| 80MHz | 37 |
| 100MHz | 37 |
| 200MHz | 32 |
| 400MHz | 35 |
| 600MHz | 33 |
| 800MHz | 34 |
| 1GHz | 36 |
| 2GHz | 48 |
| 4GHz | 29 |
| 6GHz | 36 |
| 8GHz | 31 |
| 10GHz | 29 |
Will Alpha shield protect against 5G radiation?
Our Alpha shielding film protects against a wide range of frequencies, as you can see from the table above, including the 3.5 GHz that is being used for 5G.
The degree of protection varies according to frequency. At the 5G frequency of 3.5 GHz, it is between 29 and 48 dB. It has not yet been tested for frequencies above 20 GHz but is expected to still provide good shielding. 
Characteristics

Appearance

Virtually undetectable on windows

Light transmittance

72% *

Percentage of UV light blocked

>99% *

Percentage of solar energy blocked

55% *

Thickness/gauge

75 microns

Adhesive

Pressure-sensitive adhesion; requires edge sealant

Suitable for glass types

Clear and tinted annealed glass
Clear IGU
Clear IGU Low E#2 and #3
Tinted/clear IGU
Tinted/clear IGU Low E #2 and #3
Clear laminated glass
Tinted laminated
Toughened

Unsuitable for glass types

Wired glass

Available widths (in inches)

48" 60" 72"

 

 
on 3mm glass
Common frequencies
Mobile telecommunications:
700 MHz, 850 MHz, 900 MHz, 1800 MHz (=1.8 GHz), 2100 MHz (2.1 GHz), 2300 MHz (2.3 GHz), 2600 MHz (2.6 GHz), 3.5 GHz (5G) and, in the future, above 20 GHz
TV channels 2-13 and FM radio: 30 MHz – 300 MHz
WiFi/WLAN: 2.45 GHz
Edge sealant

This film requires edge sealant to be applied some days after the installation of the film, so this will require a second visit from the installer.

Installation on cars

The Alpha film can be installed on some car windows.
It can be applied to side and rear windows but, due to legal restrictions, not to the entire surface of the windscreen.
For practical reasons, it would be applied without edge sealant.
Please check with your installer how much film you'll need.

Please note that we take no responsibility for the installation of the film.
Costs
These prices are a guide only. They include GST but do not include the cost to cut the film and freight.
They are provided to help you select the film that is most suitable for your home or workplace.
For a quote, please see above. 
| | |
| --- | --- |
| Window film | Approximate cost per square metre |
| Alpha | $135 |
| Beta | $40 |
| Gamma | $40 |
| Delta | $40 |

Tips
Removal of films that have been applied with dry adhesive can be difficult and can only be done using razor blade scrapers. However, blades can't be used on Low E glass which has a coating on the inside.  Although film can be applied to this glass, it's not possible to use any blades on the glass for cleaning or removal of film.
If you're planning to order new windows or doors in your home, consider this alternative to Low E glass: applying our film to your glass will result in much greater energy efficiency and you won't have to worry about damaging the glass if the film ever needs to be removed.
If you decide to install the film yourself, please note that the film warranty will not apply.
EMR Australia is a supplier of Solargard window films and we have selected the products with the greatest shielding effectiveness for you.

Customer reviews

'the view looks even better now [after the film was installed] and radiation levels have dropped ten fold ... We could not be happier. We both had a great night sleep with nice happy dreams.  You have saved us.' Michael & Vicki - Byron Bay, NSW
'Recently I had telecommunication facilities erected within a very close distance to my residence. Initially, I sought information from various sources until finally discovering the EMR Australia website hosted by Lyn McLean, whom I contacted for information and possible remedies prior to the devices being 'switched on'. 
In my instance, vast floor to ceiling glass over multiple levels with a direct aspect to the telecommunication towers risked allowing high levels of radiation to be transmitted into my residence.
I was thrilled to learn of Lyn's recommendations to offset and defray the EMR emissions with Solagard Alpha Shield LX 70, being such a simple and easy solution. Its bonus dual functionality of also providing near total UV block and tinting makes this product almost a necessity even before the primary benefit (in my case) for EMR shielding.
Following installation I was able to empirically test the benefit of the LX 70 using my Acoustimeter previously purchased from EMR Australia. I was relieved to determine significant shielding benefits having been achieved with readings on my Acoustimeter from the mid to high 'red zone' to low to medium 'yellow zone' being before and after readings.
In addition to the shielding, Lyn also recommended a special shielding paint to be applied to vulnerable EMR wall space adjacent to windows which I purchased and achieved similar outcomes.' S.Z.
'We have successfully installed the window film and I am very happy that the shielding is effective.' R. K.
'You are doing a great job and a wonderful service to the Australian community. Keep up the good work.' L.C.
'I have tested the film with my meter & was very impressed with the shielding (Chris was interested in seeing the test too), it looks great & it seems to have a slight golden tint which I really like. It certainly beats the rolls of tinfoil I tried, & later a number of those silver emergency blankets you find in a 1st aid kit, that I had up for a while when I was experimenting. They all worked to a certain degree, but obviously looked terrible. Thanks again for your help Lyn' P.C.
'The owners are loving the film so far.' A.S.
'...they have worked perfectly. The space feels fantastic and have improved dramatically. Thank you for your help and i will be ordering more soon for some other windows.' M.B.