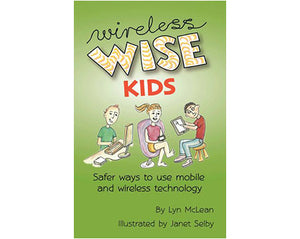 By Lyn McLean. Illustrated by Janet Selby
Description

Today's children are using more wireless technologies for longer periods of time than ever before. Yet children are more vulnerable to the radiation they emit than adults and know less about how to protect themselves.

In Wireless-wise Kids Lyn McLean and Janet Selby show children how to use mobile phones, cordless phones, wireless computers and tablets more safely. Their practical, beautifully-illustrated suggestions echo recommendations by world experts that we should be taking precautions to help keep our children safe.
The first book of its kind anywhere in the world, Wireless-wise Kids is a 36-page, full-colour paperback about wireless technologies aimed specifically at young people. It contains dozens of tips that young people can easily understand an implement and has scores of colourful, animated pictures and cartoon characters designed to appeal to kids of all ages.
'We think that kids will derive as much information from the pictures as the text,' said Selby, who, like McLean, is a trained teacher.
Even adults have found its practical suggestions helpful!
The book's message is in line with recommendations from many international authorities to limit children's exposure to microwave radiation. These include Russia's peak radiation authority, the European Environment Agency, the European Parliament, governments in Britain, Israel and France and medical organisations in Ireland, Germany, Vienna and the US.
About the authors
Lyn McLean
Lyn is Australia's foremost source of independent information about electromagnetic radiation. A teacher, author and business woman, she has been investigating and writing about electromagnetic radiation since 1996. She is author of 'The Force – living safely in a world of electromagnetic pollution', published by Scribe (2011), publisher of the quarterly report 'EMR and Health', and Managing Director of EMR Australia PL. You can see more about Lyn here.
 
Janet Selby
Janet is an illustrator, sculptor, ceramic artist and art teacher based in Sydney. She is illustrator of the popular Australian children's book 'Bindi-eye Bop' whose unique and colourful bush characters delight children as they sing along to the tunes in the accompanying CD.

Endorsement
The UK based non-profit organisation Wireless Education is pleased to endorse this material as aligned with internationally recommended medical best practices for safe handling of microwave communication devices. Wireless Education aims to see educational material in the hands of every child, parent, teacher and businessperson so they can learn to minimise known health risks from microwave transmitting devices. You can see more about Lyn  here.
Emery's experiment
Here's fourth-grader Emery, holding a copy of 'Wireless Wise Kids' and showing the results of her science experiment on how wireless radiation affects watercress plants at Hampten Meadows School in the US. Her mum wrote, 'Your WWK book is special to my family and copies have been shared with others in our community.'

Thanks Emery and mum. We're so glad the book has been helpful and congratulations on your great science experiment! 


Details
Paperback: 36 pages
Publisher: Envirobook (first published 2012, 2nd edition printed 2015)
Language: English
ISBN- 978-0-85881-249-9
Other customer reviews
'What a great book!'

'It's concise and readable for kids and it gets the message about wireless safely across. I think it's fantastic! The pictures are awesome!'
By Simon 

'Well, I have just purchased Lyn's children's book and I am taking it to my grandchildren in NZ. This book should be in every school and medical practice in the country. Although it is written and illustrated so that children can easily understand it, it can also be easily understood by adults.'
By Mike 

'The book is great I'll strongly be recommending it to everyone. Well done!!'
By S.L. 

'Loved it! It's so easy to read - we're giving it to all our friends and family with kids.'
By S. A.

'I've lost count of how many copies of Wireless Wise Kids I have purchased from EMR Australia. I've given them to family and friends as gifts and also donated copies to my primary school and high school Principal, teachers and library. This little book is a great introductory resource and it is presented in a gentle and easy to understand format. Everything you need to know to begin cleaning up your own EMR environment is explained simply. Most people are not aware that Radio Frequency (RF) Microwave Radiation has been classified as a 2B Possible Carcinogen by the IARC World Health Organisation (WHO). Many devices we use emit Radio Frequency (RF) Microwave Radiation and Wireless Wise Kids will empower the reader to make important changes in their own level of EMR exposure and It is easier than you think to make these important changes. A must read for the young and old in this digital and technological world.' By Elizabeth

'There is no denying that technology is beneficial to us and is here to stay for good. However, considering how quickly technology is advancing and how widely spread it is becoming, I think it is important to keep in mind that this generation of children are the first ever to be exposed to these types of technologies at such great intensity for such a long period of time. Lyn McLean is such a wealth of knowledge on this subject and her book Wireless Wise Kids gets the point of using mobile and wireless technology safely across so clearly and informatively. The book is great for all ages as it is so easy to read and well illustrated. It truly is a book that children enjoy reading whilst getting such beneficial safety information on a topic that is so important to their safety and well-being. Children and adults alike can benefit from this great book and nothing makes me prouder as a parent than when my children inform me on how to use these technologies safely. I love that they are aware and I have Lyn to thank for this because they love reading her book so much. Thank you Lyn.' By Kelly

'I've already read both Wireless-Wise Kids and Wireless-Wise Families over the weekend and they are amazing, congratulations on all your brilliant work!!!' A.P.