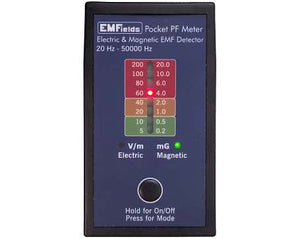 Description
The PF5 [Power Frequency 5] meter is a unique and versatile meter suitable for measuring fields from electrical sources. The advantage it has over many other meters designed for this purpose is that it measures both:
magnetic and electric fields from electrical sources;

an extended range of frequencies – from 20Hz to 50 kHz.
Whereas most magnetic field meters measure fields in the ELF (extremely low frequency) range of the electromagnetic spectrum, the PF5 also measures fields from the VLF (very low frequency) range of the spectrum. This enables it to measure fields from:
induction cooking hobs

solar panel inverters

CFL globes

some LED lights. 

Identifying fields in the VLF part of the spectrum is important because these frequencies can produce much greater currents in the body.

For example, a magnetic field from equipment operating at 25 kHz induces 500 times more current in your body than the same field from equipment operating at 50Hz. So a 4mG magnetic field at 25 kHz induces the same current as a 200 mG field at 50 Hz.


Similarly, the electric field from a CLF globe is 3 times greater than that from a 60 Watt incandescent globe. However, it will induce a current 1500 times greater than does the incandescent globe.
How to operate the meter
The PF5 meter is easy to operate and to read.


Press the button once to turn the meter on. It is now measuring magnetic fields.

Press the button again and the meter is now measuring electric fields.

Each time you press the button, the meter will swap between measuring electric and magnetic fields.

To turn the meter off, press the button and hold for about 2 seconds. The meter will also turn off automatically after about 5 minutes of non-use to preserve battery life.

Coloured lights represent the magnetic/electric field measurement.

When 2 lights display at once, the exposure level is half way between the two.

The lights are colour coded – green, orange, red – for precautionary guidance on exposure levels.

Rotate the meter to pick up fields in every direction.

You can download the user notes here.

You can download additional user information here.
TECHNICAL SPECIFICATIONS
A line of coloured LEDS shows the level

Electric fields range: 5 - 200 V/m

Magnetic fields range: 0.2 - 20 mG

Resolution: 8 LEDs plus 7 middle points

Accuracy: 50 to 2000 Hz ±10%

Accuracy: 20 to 50000 Hz ±3 dB

with a useable response from 15 Hz - 70 kHz

Battery: PP3 9V Alkaline or Rechargeable

Current: 16-23 mA

Battery life: 25 hours (normal alkaline)

Low battery (6.7V) shown by red V/m LED

Size (mm): 110 x 63 x 21 (LxWxD)

Weight:140g incl.battery; 175g with pouch.

Guarantee: 5-year guarantee; if, after 5 years, the meter appears to be malfunctioning, the manufacturer has agreed to check it free of charge and repair where possible, as long as the owner pays the 2-way postage.
Customer Feedback
'Many thanks for the most helpful meter, Lyn.' L.D.