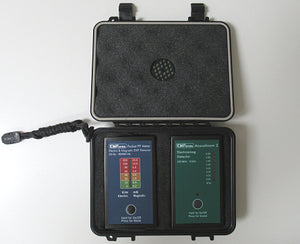 For hire: Our Home Test Kit measures three fields that are present in and around virtually every home.
It measures magnetic fields, electric fields and radiofrequency (wireless) fields, allowing you to see just what you and your family are exposed to.
With it you'll be able to measure magnetic and electric fields from electrical sources and wireless radiation from coms equipment from sources such as
mobile phones
cordless phones
baby monitors
microwave ovens
computers
tablets
WiFi
powerlines
smart TVs
smart meters
mobile phone towers
NBN towers and internet connections
wiring
substations
transformers
meter boxes
electrical appliances
conductive pipes and wiring
and other electrical and wireless devices.
You can use it to
decide whether or not to purchase a home near a power line or mobile phone transmitter
determine your family's exposure at home, work or schools
identify safe locations for beds or workstations
identify hotspots to be avoided or shielded.
Once you've identified problems, you can book a phone consultation to discuss your measurements and the best and most economical solutions to reduce your exposure. 
You can hire the meter package economically and hire period is for 7 days, beginning with the day on which the kit is delivered.
Our Home Test Kit contains
The PF5 meter which measures electric and magnetic fields over a wider range of frequencies than most meters on the market
The Acousticom2 meter for measuring wireless radiation
instruction booklets with simple-to-understand tips for getting maximum benefit from the meter

charts for recording your results
information about 'safe' levels of exposure
and handy tips for keeping you and your family safe.
Customer reviews
Here's what customers have said since our recent upgrade of the kit:

'I am impressed with the scope of the information you included with the measuring apparatus.' J.V.
'We had a great time testing our house- surprised at some things & making some changes.' K.B.
'I just wanted to share this with you too! I had turned wi fi off on the computer and could not understand why the meter was still registering wi-fi up to the orange level on my desk. I called Apple and they showed me how to turn off Blue tooth on the computer, and now, when I am working on the computer the meter is showing the lowest reading on the scale, low green!! OMGoodness, I wish I had done this a few years ago. I have been writing on my computer quite a few hours a day for a few years. Anyway, I'm so happy to know that Its all off! Thanks again!!' S.S.
'We found everything really helpful and informative. It was great to know where our house stands and will make a few changes from the results. Many thanks.' N & D
'I was sad to see the equipment go as I have learnt so much.' A.
'After constantly worrying about the effects EMR was having our our young family, we decided it was time to get the facts, so we could make an informed decision about our property, located near high voltage powerlines. We were immediately impressed with the information on the EMR Australia website. After hiring their equipment and reading Lyn's book 'The Force' we now feel equipped with the right information, to make the best choice for our family'. N.P.
'I have found hiring this kit an amazing opportunity to discover where the true dangers are around us. I have learnt so much from what I have discovered.' A.B.

'Thanks so much Lyn! I've made a few simple changes and have reduced my wireless readings from 0.3 V/m down to 0.1 V/m indoors.' C.H.
'Helped us find where cables were running through walls and decide on best place for our kids' beds.' A.V.
'Your kit has been invaluable. Thank so much.' D.V.
'It has been fantastic and very enlightening.' K.B.
'The last week with the units have been such an eye opening, expansive learning week! Very happy to know the patterns in our home better.' M.M.
'Thank you for the opportunity to gain access to the meters, and also for your time to understand the information.' K.S.

'It was brilliant and most helpful.' H.D.
'I am now more aware, and will restrict the use of wireless devices. We have all embraced this "great" new technology, without understanding the risks, which are even more important for our precious small ones to be protected from.' M.W.
'It was a fascinating and eye-opening exercise.' V.B.
Here's what customers have said about the Home and Office Test Kits previously.     

'The items I suspected may have been a problem, such as the meter box, were not - but there were other items that were. Luckily these can be  cheaply and easily resolved by just moving a few things around. This has provided increased peace of mind.' By C.M.
'It has been fascinating measuring the EMF and RF in our home, our community and places of work. We were able to bring the readings down in our bedroom by making some simple changes. Prior to that the RF reading was at the maximum level which made me so glad that I took the time to investigate the health of our home. Thank you.' By A.G.

'Very useful for identifying possible sources of EMR. Very useful in setting up in a new home.' By N.M.

'I found the kits to be a fantastic tool to measure EMF and RFR in my home.' By D.W.

'It helped us to identify dangerous areas in our home, especially where our children are sleeping. Results were quite astounding! We can now make appropriate changes to make theirs, and ours, safer and healthier.' By D.B.

'The meters were great. I found out my microwave was over the top. Assured me of my surroundings.' By M.C.

'The meter was a great help identifying areas in our home where high fields existed. (It) enabled us to relocate our furniture to avoid fields.'

'We're so glad we hired the EMF meter to solve a sleeping problem with a member of our family - a digital clock and a "touch" lamp recorded very high readings along with a power lead/adapter under the bed. Once all were removed he slept all night the first night and his sleep has dramatically improved!'

'It was very helpful and put my mind at rest.'

'This kit helped to find out where high levels were coming from and helped us to start the process of a healthier environment.'

'The kit was excellent. We particularly wanted to measure the impact of a power box on our main bedroom wall.'

'Thanks for your help. The meter was easy to use and the instruction booklet was very helpful.'

'Thanks. This is what I have been looking for for years.'

'It was very useful. I will definitely use in the future in I recommended it to a few friends already.'

'It gave me peace of mind... The instructions were brilliant, too.'

'We used it to check the readings around some overhead powerlines that are close to some land we were looking at purchasing. It was good to see the readings no higher than what we have at our current home which gives some peace of mind.'

'Helped put our minds at ease when purchasing a home.'

'Thanks for the use of these meters. I found them very interesting and was able to identify some big offenders with both EMF and RF radiation. Considering that my wife and I just had a baby last Tuesday which will be sleeping in the room with us, it has made me think more carefully about the amount of technology we have in our room, as well as any adjacent rooms.' By Peter

'The meters were very useful, thank you! We have two children and live reasonably close to power lines. The meters gave us real- time data about their emissions (and others around our home) and we've been able to take practical steps to reduce our exposure (who would have thought the microwave and hairdryer would be so high!). It was very professionally presented and easy to use.' By L.O.

'Have found this kit fantastic!' By Melanie

'The tools were great as they enabled us to know that we are living in a safe area.' By N.D.

'I enjoyed testing the various environments I live and work in.' By C.J.

'We suspected we had issues with EMF, WiFi particularly, from a meter box, but were surprised by the extent that we measured. Highly recommend hiring the kit and seeing the number(s) for yourself. Now we know the levels in the suspect areas, we can look at managing/minimising our exposure.' By E. T.

'The kit overall made me aware of radiation levels from microwaves and mobile/cordless phones. I will be passing this information onto my children and grandchildren.' By G. C.

'The kit was extremely helpful at home. We identified several sources of radiation that we had no idea existed. As a result, we have made some big changes for the better.' By M. F.


'The kit was most helpful, and helped us identify some changes which we can make.' By R.M.


'I was able to check if our bedrooms were safe. To my surprise, the meter box was nothing compared to the alarm clock and phone (cordless).' By C.G.

'Thank you Lyn. Very useful exercise. Very efficient service you provide.' A.C.