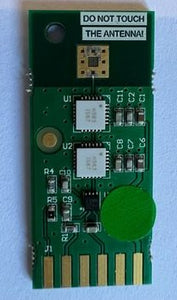 FM5 Antenna 
The FM5 antenna upgrades the FM5 Path Basic meter to the FM5 Complete meter. This allows it to measure additional 5G frequencies in the millimetre range from 24 GHz to 32 GHz.

Your meter will then measure radiation from:
cordless phones, mobile phones and base stations

WiFi

wireless modems, routers, tablets, baby monitors and other wireless devices

IoT devices.
To upgrade the FM5 Path Basic meter:
purchase the FM5 Antenna
return your meter to our office where the antenna will be fitted and the meter returned to you.
(Picture shows antenna on circuit board.)